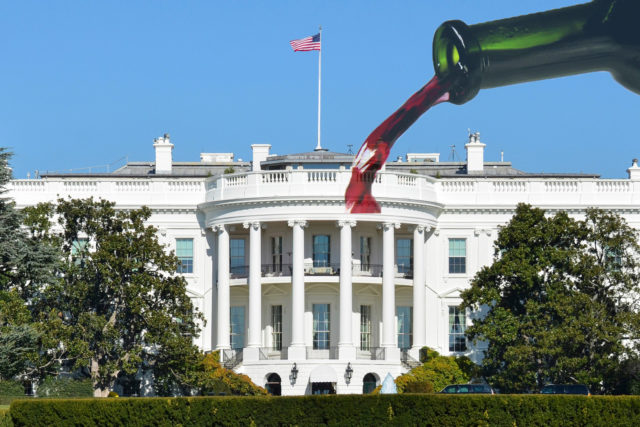 Wine in The White House – A Glimpse into a President's Glass
One might imagine that the White House would have a pretty impressive wine cellar. Apparently, that is not the case. The White House wine cellar is rumored to be the size of a walk in closet at best. Due to the overwhelming number of events they host they only keep wines on site for immediate use.
This wasn't always the case as Thomas Jefferson will always be known as the "First Father of Wine". Naturally, he built a wine cellar in the West Wing that held up to 20,000 bottles from his personal collection. That impressive cellar has since been repurposed. His diplomatic travels in 1787 to Italy and France instilled in him a lifelong passion for European fine wine. Jefferson's favorite wines appear to have been top-quality vintages of Bordeaux, Burgundy and Sauternes. The third president also had high praise for white Hermitage, reportedly naming it 'the first wine in the the world without single exception'. Jefferson ordered vast amounts of wine from Hungary. In 1801 he bought 240 bottles to be precise, along with more than 100 gallons of Madeira wine, according to sources. Unfortunately, Jefferson's wine obsession sank him into crippling debts, leaving him near bankruptcy by the time of his death.
During the Prohibition period, 1920-1933, President Hoover did not serve any alcohol in the White House, despite not being a supporter of Prohibition. It wasn't until President Roosevelt entered the picture, and Prohibition was repealed, that alcohol was reintroduced into the House. Former President Jimmy Carter turned Vintner after his presidency and continues to make wine mostly for friends and family in Georgia from Scuppernong and Muscadine grapes
The Obama administration reinstated the tradition of publishing their State Dinner Menus and wine pairings. President Obama is a known beer enthusiast, but entertained with wine. The wines surprisingly runs the gamut, from "expensive" Boutique California Pinot to grocery store aisle staples. The wines are typically chosen by the White House sommelier, David Shanks, and the First Lady. Mr. Shanks prefers to serve aromatic wines with youth and vigor "that carry a strong impression of their presence, yet balance and purity on the palate," for state dinners where meals are not the primary focus of the evening. Shanks cited Pinot Noir, Syrah, Zinfandel, Viognier, Riesling and Pinot Gris as having a "wine presence" above the glass.
Most recently, three wines were served at President Trump's Inauguration event. President Trump is a known "tee-totaler" despite having a winery of his own. We are going to refrain from sharing our thoughts on their choices…
-J. Lohr 2013 Arroyo Vista Chardonnay from Monterey County
-Black Stallion 2012 Limited Release Napa Valley cabernet Sauvignon
-Korbel Natural "Special Inaugural Cuvée" California Sparkling
WINES PAST PRESIDENTS HAVE SERVED (Prices/values are approximate and change over time)
Chateau Lafite Rothschild
President: Thomas Jefferson
Price: $1,500
Chateau Haut-Brion Blanc
President: John F. Kennedy
Price: $1,000
Chateau Haut-Brion
Presidents: Harry S. Truman & Woodrow Wilson
Price: $560
Shafer Cabernet Sauvignon "Hillside Select"
President: George W. Bush
Price: $245
Quilceda Creek Cabernet Sauvignon
President: Barack Obama
Price: $150
Mi Sueno Cabernet Sauvignon "Herren Selecion Rebecca"
President: Barack Obama
Price: $125
Chimney Rock Reserve Cabernet
President: George W. Bush
Price: $90
Morlet Family Vineyards "La Proportion Dorée"
Price: $64
President: Barack Obama
Inglenook Pinot-Chardonnay (now called "Chablis")
President: Harry S. Truman
Price: $6
Fetzer Reserve Cabernet Sauvignon
President: George W. Bush
Price: $7
Sterling Chenin Blanc
President: Gerald Ford
Price: $8
Duckhorn Sauvignon Blanc
President: Barack Obama
Price: $11
Charles Krug Gamay Beaujolais
President: Jimmy Carter
Price: $14
Korbel Natural Brut N.V.
President: George W. Bush
Price: $14
Beaulieu Vineyard Cabernet Sauvignon
President: Gerald Ford, 1973
Price: $16