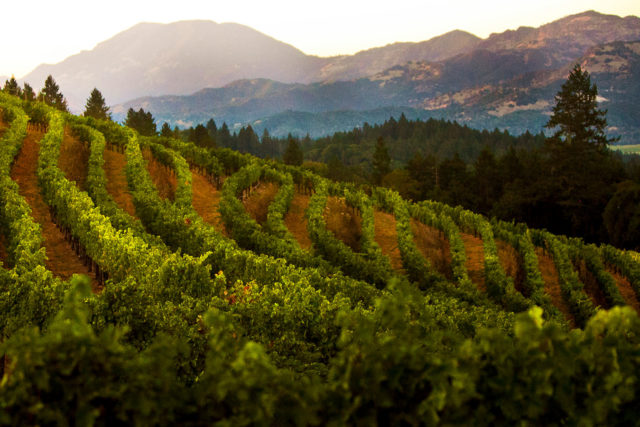 Top 5 Napa Cabernets of 2013
Savvy collectors worldwide recognize that the 2013 Napa Cabernet vintage is one of the finest in history. In fact, at least one noteworthy critic famously proclaimed the 2013 vintage Napa's best-ever. After judging literally hundreds of 2013 Napa Cabernet contenders over the past few years, the California Wine Advisors are pleased to announce our highest rated winners. We will be revealing these Cabernets with additional editorial in three parts based upon price categories in the coming weeks. Today, we're featuring the Top 5 rated selections under $150 per bottle. We applaud each winery and hope you will discover new favorites for your cellar.
TOP 5 NAPA CABERNETS 2013 – Category 1: Under $150 (listed alphabetically)
(Categories 2 and 3 Coming Soon)
Araujo Cabernet Sauvignon Napa Altagracia 2013 ($135) Rated 97 points in April, 2016.
We admire this winner because it reminds us of many 'Cult' Cabernets, but sells for dramatically less. Intensely delicious and unabashedly age-worthy. Collectors love this bottling since it is the 'little brother' label to Araujo's Eisele estate Cabernet which Robert Parker rated 100 points this same vintage. Interesting trivia is that this was the last-ever "Araujo" label since, shortly after the release, the winey name was officially changed to "Eisele Estate" by the French ownership.
Barbour Cabernet Sauvignon Napa 2013 ($129) Rated 98 points in February, 2016.
Barbour is an annual favorite and contender for 'under the radar' Cabernet of the Year most vintages. Due to boutique production limitations, these bottles rarely see distribution beyond Wine Country which is a shame. The quality is absolutely spectacular which isn't a big surprise considering the proprietor, Jim Barbour, is one of the most respected viticulturists in Napa. The winemaker, Celia Welch, is one of the most celebrated in the world!
Lewis Cabernet Sauvignon Napa Reserve 2013 ($149) Rated 98 points in January, 2016
This special reserve bottling often garners lofty accolades for the deftly balanced, deeply delicious full throttle flavors. Interesting trivia is that the "little brother" Napa Cabernet (non-reserve) bottling of this wine was named Wine Spectator's 'Wine of the Year' a few months after we released our rating.
Michel Rolland Cabernet Sauvignon Napa 2013 ($145)
Rated 97 points in December, 2016
We were delighted by the first public release of rock-star winemaker Michel Rolland's personal Cabernet, which combines his personal favorite vineyard sources across Napa. In addition to hailing from the "best vintage in 30 years", and as you'd expect from a man of this stature, this Cabernet is sourced from the finest First Growth vineyards in Napa; BECKSTOFFER's To Kalon, Dr. Crane, Missouri Hopper and Stagecoach!
Textbook Cabernet Sauvignon Reserve du Dumas 2013 ($89)
Rated 97 points in July, 2015
No doubt the smallest production Cabernet on our list (merely two barrels crafted), this distinguished Cabernet is a blend of fruit from vines next to Screaming Eagle and vines next to Harlan. We admire the relatively conservative price considering that pedigree.