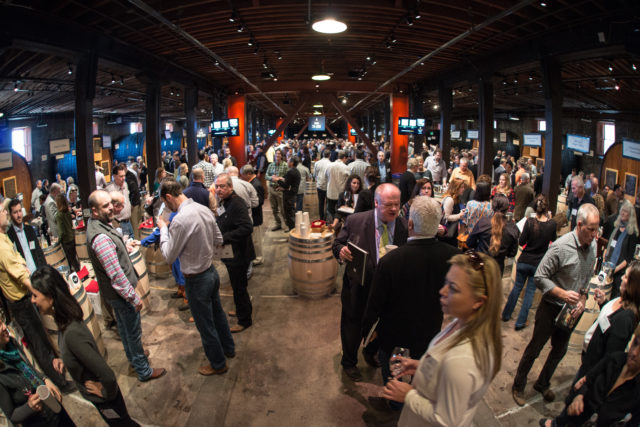 Auction Day at Premier Napa Valley 2017
The Premiere Napa Valley Wine Auction is one of the most magical, intense and bewildering events that takes place in Napa each February. It is preceded by a week of swanky dinners at wineries, casual parties, and trade tastings for each of Napa Valley's sub-appelations. This all culminates in a barrel auction, held at the historic Culinary Institute of America at Greystone (CIA), where lots of five cases (60 bottles) are sold off for anywhere between $9000 to $200,000 each. After a morning of tasting the lots, it is followed by a lunch catered by the CIA where participants can stop pretending to taste and instead start pouring off large glasses of wine from the literally hundreds of bottles that have been opened for just this occasion. In this atmosphere of Dionysian madness, it's easy to get caught up and accidentally spend an insane amount of money on an auction lot.
The true magic of the event though is the tasting of each lot just prior to the auction. It is singularly the best way to meet with many of the major players in the valley and get an overall sense of the vintage that is being shown. Perhaps even more importantly, it offers an opportunity to chat with the winemakers and learn about their upcoming projects that are so small that they would otherwise completely escape notice. For example, a few years ago I was able to speak with Massimo di Costanza (at that time, winemaker at Farella and previously was at Screaming Eagle), who was just introducing his own label to the market. Since then, his annual release has been something that I routinely look forward to.
The 2015 vintage, which is what was on display at PNV, is yet another winner for Napa Valley. The quality of wine produced is on the whole top notch. Some of the highlights were Continuum, owned by Tim Mondavi and up in the high rent district of Pritchard Hill; Vineyard 7&8, made by Martha McClellan who also crafts 'Cult' Cabs Checkerboard, SLOAN and her own, Levy & McClellan, made with her husband (winemaker at Harlan) Bob Levy; and, surprisingly, a Sauvignon Blanc made by Dana Estates that held its own in what was otherwise a room filled with Cabernet Sauvignon. The only major downside to the vintage is that, due to some early shatter in the vineyards, most wineries only produced HALF of what they normally do. While what made it into the bottle is of superior quality, there just won't be as much to go around when it starts hitting the market in 2018. The long and the short of it is that if you have a favorite wine from Napa, get in line early for your allocation of 2015s and buy what you can as there likely won't be a second chance.
With the final gavel drop, an exhausted audience says their good byes and files out; some, quite a bit poorer than when they entered. Even still, everyone is all smiles. It's been another good event and we'll start saving our pennies to go at it again next year.