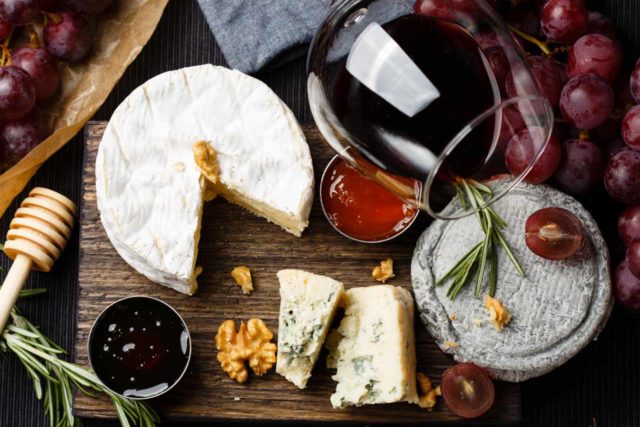 Top 10 Cheese & Wine pairings
Most wine lovers would agree that the perfect cheese pairing is a match made in Heaven! Working at my 'day job' (judging and recommending rare collector wines) for the last 15 years I've learned that the right cheese can dramatically enhance a very good wine and, conversely, the wrong cheese can make an otherwise great wine taste pretty mediocre. Scientifically, cheese is the perfect antidote to a young, tannic red wine or acidic white wine as the fatty elements (of the cheese) literally coat the taste buds making your mouth more receptive to a wine that might seem a little harsh on its own. While I partially agree with some generally accepted rules of thumb (e.g. 'soft cheeses with white wines and hard cheeses with red wines') the exploration for ideal cheese and wine pairings is actually magnificently complicated!
For starters, I've penned my Top 10 Cheese & Wine pairings below listed alphabetically, featuring the most popular collector-level wines in the world. For the full list of our Top 50 Wine and Cheese Pairings please Contact US.
ABOUT THIS LIST: I developed this recently after searching for ideal cheese & wine pairing websites. In my search, I found a veritable plethora (literally hundreds!) of sites with opinions and advice but few were helpful. Many websites focused on such obscure cheeses from various regions of France or England that no American epicurean could ever source these at home. Others, focused on stretching universally accepted axioms and only provided edgy recommendations which I believe is unhelpful for most novices simply looking for ideal pairings to savor at happy hour with friends. An example of that is virtually any connoisseur would accept that creamy French cheeses pair perfectly with Chardonnay but many website recommended Swiss Gruyere. At first, I thought that was a typo and then I realize several sites recommended the same. I understand the possible reasons behind this 'edgy' recommendation ('nuttiness' of the cheese combined with the oak flavors in the Chardonnay?) but it's simply wrong (sorry!).
Please note that this list is not intended to be exhaustive as it doesn't include several classic combinations (e.g. Port + Stilton) and no mention of Champagne since I believe other appetizers such as smoked salmon are more ideal than any single cheese. Finally, white wine lovers might lament the conspicuous absence of Brie as a recommendation for any wine. This is an intended omission given my opinion that the plastic, cheese-like substance imported into the U.S. and sold as 'Brie' in grocery stores across America is only slightly more palatable than Velveeta.
Wine & Cheese Pairing Recommendations:
Cabernet & blends from California — Aged Gouda (orange color)
Cabernet & Blends from Bordeaux — Comte (French)
California / Burgundy Pinot Noir — St.Andre (French)
Syrah and other red (California) — Piave (Italian)
Rhone Red — Emmenthal (French )
Italian Red (Tuscany, Piedmont) — Pecorino (Italian)
California / Burgundy Chardonnay — Aux Delice (French)
California other white — Goat Cheese (semi-soft)
Rhone White — St. Andres (French)
Alsation / German Whites — Cambozola (French)