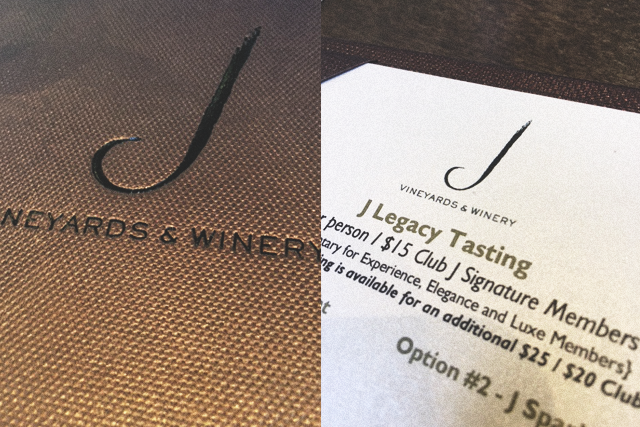 J Vineyards – Tasting the Current Releases.
For just over 30 years, J Vineyards has been working to establish themselves as one of the most recognized American wineries primarily focused on sparkling wines. We recently visited the winery anonymously to taste through their portfolio of current releases.
NOTE: In addition to the wines listed below, J Vineyards also produces several wines that have wide distribution and, thus, can be found easily by consumers across the USA. In particular, the J Vineyards Chardonnay Russian River Valley (appellation-designate) is typically a superb value.
J Vineyards Chardonnay STRATA 2013
94 points – Classic "butter"-driven in style. Nice balance, very new world and "mainstream" in its appeal.
J Vineyards Bow Toe Vineyard 2014
95 points – The Bow Tie builds on the STRATA's successes with more brightness and freshness.
J Vineyards Pinot Noir Bow Tie Vineyard 2013
94 points – Dark fruit enrobed in caramel. Light, glassy texture. Background earth and mushroom. Classic Russian River.
J Vineyards Pinot Noir STRATA 2013
95 points – Intense, brambly blackberry. Pristine finish that refreshes the palate.
J Vineyards Pinot Noir Freestone 2013
95 points – Raspberry and Pomegranate aril. Hints of Gevery Chambertin. Orange rind on the clean finish.
J Vineyards Vintage Brut 2010
93 points – Classic notes of hazelnut and vanilla.
J Vineyards Vintage Brut 2009 (Magnum)
95 points – Vanilla, lemon custard and a patisserie's worth of flaky pastries. Clean and refreshing, yet rich in flavor.
J Vineyards Cuvee XB
89 points – Pleasant, but feels abbreviated.