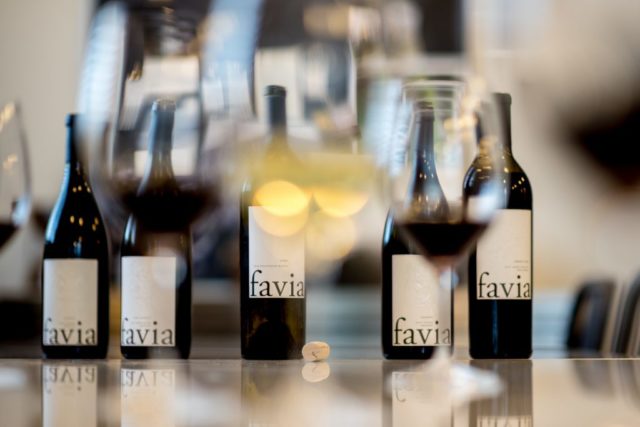 Attention Collectors, Meet Favia Wines…
New wine labels come and go with great frequency in Napa Valley. Every now and then, we come across a producer who we know is putting down roots, literally. Favia is a collaboration between husband and wife team Annie (Favia) Erickson and Andy Erickson. The two are highly respected across the valley for their experience working with Napa's most elite vineyards and wineries. Annie launched her career working as a viticulturist with John Kongsgaard, Kathy Corison and David Abreau. While Andy has been making wine for some of the most highly prized "cult" producers in Napa Valley, including; Dalla Valle, Screaming Eagle, Arietta, Dancing Hares and Ovid.
Over the past decade Annie and Andy have been producing wines under Annie's maiden name, Favia. Despite receiving lofty ratings in the high 90's from critics such as Robert Parker, you may not have heard of the Favia label, which is still somewhat under the radar. With only 300 cases or less normally produced for each wine, they're only available to list members and a few carefully selected high end restaurants. I was fortunate enough to experience a tasting at their Estate recently which was one of my most enjoyable Napa Valley experiences to date.
The Estate is located on a historic property first planted by pioneer, Antonio Carbone in 1886 in Napa's Coombsville appellation. Antonio Carbone and his brothers were the first Italian immigrants to move to Napa Valley. With their newly found 5 acre property, they founded Carbone Winery. The bottom floor of the house was crafted into a wine cellar with thick stone walls with the main farmhouse style living space resting above it. The Erickson's have refurbished the space while staying true to its origin. The stone walled once winery, now functioning barrel room, is an intimate space with a rustic ambiance. The property is saturated with decades of winemaking history and is a refreshing change from the flashy Napa Valley tasting rooms we're all familiar with.
The Erickson's tend to their land with great care including an estate vineyard and a thriving vegetable garden large enough to feed a small army. As well as various vegetation that is native to the area and what is likely to have been grown in the 19th century. The wine tasting is held in a cozy "tasting lab" that overlooks the creek. The 'lab' is stocked with various artifacts and historical documents paying homage to the property.
It goes without saying that the wines are absolutely stunning. They possess all of Napa's rich fruit and minerality, but also have a classic elegance that can often be lacking in flashier wines. They're currently producing Sauvignon Blanc, Viognier, Cabernet Sauvignon, Syrah as well as a few blends. I can confidently say that myself and my fellow tasting panel members at CWA consider Favia to be one of our top recommendation for connoisseurs collecting domestic wines. If given the opportunity to taste or acquire these wines, you will not be disappointed. To view the CWA team rating for Favia's latest release, please see below.
Favia Carbone Cabernet Blend – 96 Points