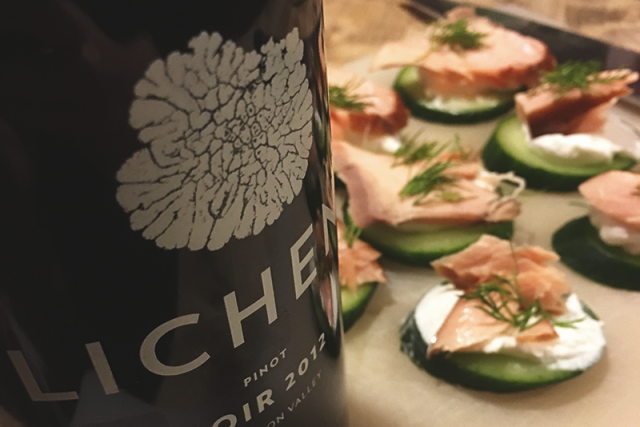 Happy Hour Salmon with Cucumber and Dill.
One of my favorite styles of Pinot Noir is the light, ethereal variety that often come from California's true Sonoma Coast and the Anderson Valley. Producers like Hirsch, Red Car, Failla and Lichen Estate all offer supreme bottlings that fit this description. While it is often stated that wines made in this more delicate style are easily overpowered by rich food, I prefer to think of them as the perfect accompaniment to similarly delicately flavored cuisine. This winter, I have been pairing these Pinots with a simple, yet satisfying happy hour snack that you might find has you grabbing more of these bottles from your own cellar.
First, buy a small portion of your favorite smoked salmon. My favorite for this is the flaky kind that slides off in chunks. The only other ingredients you'll need are a small container of plain Greek yogurt, a fresh English cucumber, and some fresh dill. There's not much to it other than to slice the cucumber, spread on some of the yogurt, apply however much salmon you prefer, and top with a sprig of dill. This snack is perfect for happy hour and is light enough to not interfere should dinner include richer fare.
Enjoy.