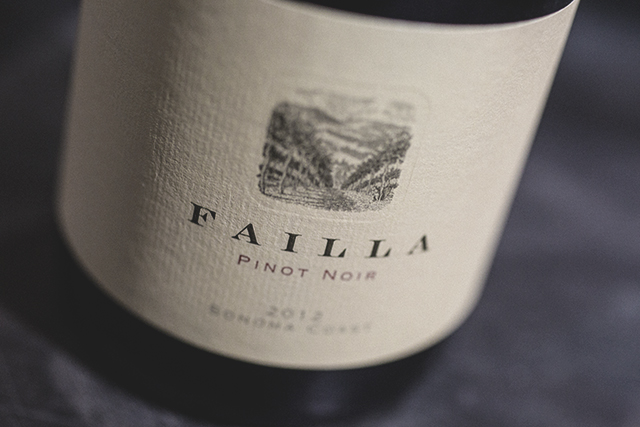 Failla Pinot Noir Sonoma Coast 2012
Offers soft, elegant aromatics laced with soft berry, pomegranate, and stone fruit.  The palate is forward and opulent, but not overdone.  Layers of cranberry and raspberry purée floral notes with hints of spice are carried along by subtle earthtones that lead to a gorgeous, persistent finish.  Supple in structure, this wine is designed for short-term enjoyment, and will drink beautifully over the next 3-4 years.
While the history of Failla (pronounced FAY-la) is short it is not without its complexities. Founded as Failla Jordan in 1998, it took its name from the husband-and-wife team of winemaker Ehren Jordan and fellow debtor Anne-Marie Failla. That year we planted our Estate vineyard on the Sonoma Coast and began buying fruit for our first releases, the very Rhône-style '98 Alban Vineyard Viognier and '98 Que Syrah Syrah.
However, after three vintages under the Failla Jordan label, the must hit the fan and we got into a legal dust-up with Jordan Vineyards and Winery. When the smoke cleared, we had agreed to cease using Ehren's last name to avoid trampling tender trademark toes and, putting our best foot (and better half) forward, we continued with simply "Failla". Many folks have asked us why we didn't just pick a fanciful name in the first place instead of playing roulette with our own surnames. Well, we never found ruins of missions, limestone kilns, stone walls or barns on our property, just several old trailers. Existing plants on the ranch include such wine-incompatible flora as agave (shot of tequila anyone?) and bay trees (boiled crabs anyone?). And geographic features on our local topo maps sport monikers such as Brain Ridge, Gualala River, and Hell Hole.
We debuted as "Failla" with a new Chuck House-designed label in the fall of 2002. Our original label, designed by Anne-Marie's sister Marybeth, has been archived and our first three vintages (stragglers safely socked away in our personal cellar) will join either the pantheon of collectors' items or the fraternity of the oddities bin. - From Failla.com