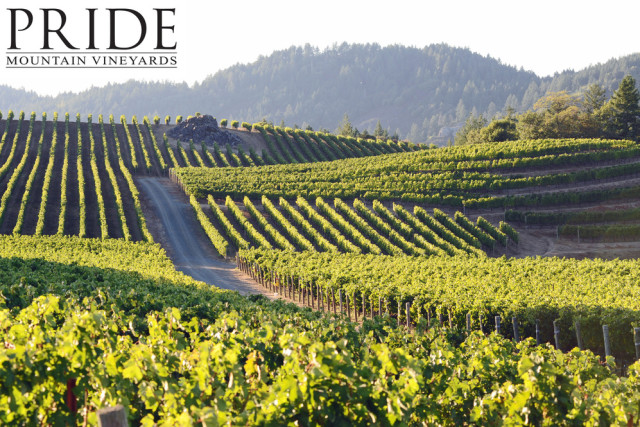 Dinner and Tasting at Pride Mountain Vineyards
I had the great pleasure to attend a dinner at Pride Mountain Vineyards that was put on as part of the annual Sonoma County Barrel Auction. Catered by the talented Duskie Estes and John Stewart of Zazu Kitchen. As a side note, if visiting Sonoma, Zazu is well worth seeking out in Sebastopol. Each dish in the tasting menu was well executed, engaging, but never overshadowed the wines that were being showcased. Personal favorites were the braised beef cheeks and the apricot stuffed crepes served with ginger ice cream. Kudos to the chefs and their team!
Pride Vineyards holds a unique position among the mountain estates in Napa and Sonoma. It is worth mentioning that the winery straddles the county line and has essentially had to create two different wineries at the site to accommodate (presumably cumbersome) labeling regulations. Pride is a historic estate on Spring Mountain with a rich history that dates  back to the middle of the 19th century. Known as Summit Ranch, it played an important role as a central location for folks all over Spring mountain to meet. It even had a little one room school house that served the community (see the website for a fun bit of trivia about that).
Jim and Carolyn Pride first purchased the property in 1989 and it is now managed by their children, Steve Pride and Suzanne Pride-Bryan. Over time, it has become one of the premier producers on Spring Mountain, having earned a bevy of top ratings, including the ever coveted "Perfect 100" point review from Robert Parker. Their winemaker, Sally Johnson, has been at the helm since 2007. Her modestly belies the great work that she's doing there. The wines we sampled were tremendous efforts and well worth seeking out. Without further adieu, some brief notes on the wines.
2014 Viognier Estate: Bright, fresh nose. Aromas of honeysuckle, ripe pear, and citrus. The mouthfeel was clean, though not without weight. Well focused layers bright fruit and mineral. Clean finish. A delicious wine, though it's hard to imagine where it's going to go from here.
2009 Merlot Estate: Showing just a touch of oxidation on the nose. Stewed red and black fruit, but nice spice and lift. The palate is phenomenol, complex red and black fruit, blueberry bush, spice box, and a solid finish.
2009 Cabernet Franc Estate: A personal favorite of the night. This wine is off the charts good with a robust bouquet of black currant, pipe tobacco, and dried herbs. The mouth feel is opulent and intense, showing ample fruit and fantastic length and balance.
2012 Cabernet Estate Reserve: This stunning wine is still in it's infancy. Showing largely primary note of cassis, blackberries, and graphite on the bouquet, the palate is densely packed and intense. One detects the complexities lurking beneath the surface, but it will take time for this wine to come into it's own.
2002 Cabernet Estate Reserve: Another favorite, this Cabernet was all about the spice notes in the bouquet. It was like sticking one's head into grandma's pantry. The tannins have completely resolved themselves, offering up a balanced, layered wine that delivers plenty of cherry liqueor, pain grille, graphite, and allspice.
2014 Fortified Sauvignon Blanc: This was a delightful accompaniment to the apricot-stuffed crepes and ginger ice cream. Simple in it's composition, it's literally fortified grape juice. Bright and floral on the nose, the palate is lively and engaging with plenty of fresh fruit notes and a bracing acidity.