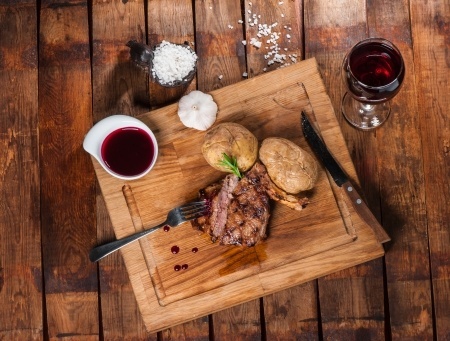 Food & Wine Pairing: Summer BBQ
As the temperatures heat up and Summer grilling season arrives, menus change and therefore, ideal wine pairings change as well. As a native Texan, BBQ is a Summer staple but it ranks high on the list of Most Difficult delicacies to match with wine.
I believe most foodies would include BBQ on their list of most beloved comfort foods. While Southerners love to extoll the superiority of Pork ribs and sauces from Memphis or the Carolinas, my heart (and stomach) remains in the Texas beef brisket camp. I find that debate interesting but the reality is either type of BBQ is normally problematic for wine pairing due to sauces that are either sweet and/or spicy. In general, overtly sweet and spicy flavors rank high on the "no-no's" list for wine pairings because they tend to overpower the subtleties of the finest wines. Some oneophiles simply take the night off approach choosing to sip their favorite craft beers en lieu of the grape. Since both BBQ and wine are deep personal passions, I've conducted exhausting research in hopes of identifying the ideal sollutions. I'll share my top two learnings:
1) deep, dark and full-throttle (a.k.a. 'oppulent') style reds such as California Syrah, Australian Shiraz or the boldest Chateauneuf du Pape or Cote Rotie from France are good choices. One of my all-time favorite food/wine pairing evenings was sampling a variety of Central Texas BBQ alongside 'Cult' reds such as Sine Qua Non, Alban, Torbreck, and Domain de la Barroche. Each of these hedonistic reds enhance the BBQ rips and brisket.
2) if Napa Cabernets are your passion, you can still enjoy those with BBQ as long as you "lay off the sauce" (literally). I recently conducted a wine tasting at a BBQ dinner with some Cabernet devotees and challenged attendees to initially sample their ribs and brisket before topping with any of the delicious sauce. It was difficult to avoid this normal BBQ tradition in the beginning but this exercise gave us all an appreciation for the uniquely smokey + meety flavors when matched alongside rare boutique Cabernet favorites from Napa such as Fait Main, Bernard Magrez, Hourglass, Seventh Mansion, and Ovid.