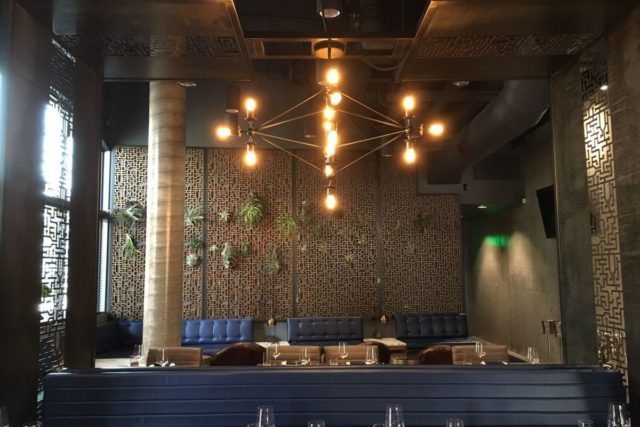 As we know, the competition for new restaurants in Napa Valley is steep. In a town offering what feels like endless food and drink options, a new restaurant venture requires risk and a focused vision.  I was pleasantly surprised to discover one of downtown Napa's newest additions is making an incredible impression on its customers.
Napa residents, Trevor and Stephanie Sheehan, opened The Corner on the downtown waterfront in August.  The Corner features an eclectic food menu and a serious selection of wine and spirits.  Despite the name suggesting that it might be a casual spot, there is nothing ordinary about the space.  The large airy room is fresh and inviting, a combination of industrial design with modern comfort.  Exposed brick walls and a living wall with beautiful succulents are warmly lit by chandeliers.  You can stop in for a drink and small bites at the bar, relax in their comfortable lounge area or have a classic dining experience at a table.
With a 26 page wine list consisting of over 4000 wines, they have something that appeals to everyone.  For the collectors, they offer an impressive selection of old and rare wines including a 1919 Chateau Siran.  The Sheehans are clearly Burgundy lovers and the list reflects their knowledge.  There is also plenty of local wine featured from both classic Napa and boutique producers in the area. With an extensive offering of rare spirits, including the largest selection of rare whiskey and single malts in the region, The Corner has quickly garnered the reputation as the go to hand-crafted cocktail spot downtown.
Executive Chef, Dustin Falcon, boasts an impressive resume including experience working in Italy, New York City and both of Thomas Keller's legendary Napa locations, AdHoc and The French Laundry.  As the Corner's Executive Chef, Falcon has designed his menu to reflect his Italian heritage and seasonally driven modern American cuisine. Sourcing ingredients from local growers and purveyors, including Five Dot Ranch, his passion for the venture is undeniable. The Corner is setting the bar high for its future neighbors on the ever expanding downtown waterfront.