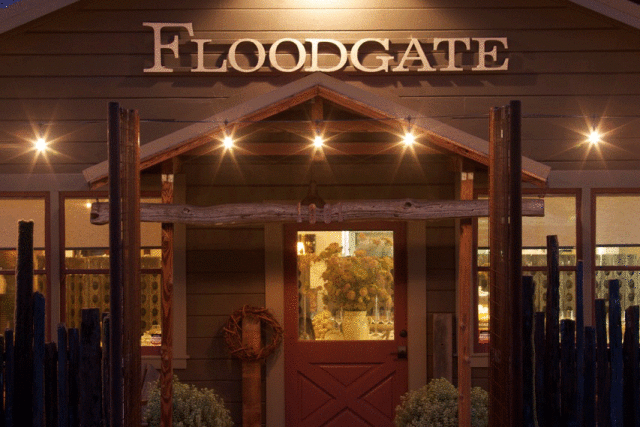 The Bewildered Pig ~ with Chef Janelle Weaver
Our panel recently spent a lovely day tasting wines in Northern California's gorgeous Anderson Valley. I was also fortunate enough to be introduced to the newest culinary venture located in Philo: The Bewildered Pig. From the moment I arrived it was clear that whoever was behind this concept was someone I wanted to know more about. The historic building embodies a rich, warm and obviously gourmet vibe that's comfortable without being pretentious. I was enchanted with the meal from start to finish! This piqued my curiosity about the woman behind the concept, Chef Janelle Weaver. Her path is inspiring and authentic, which is clearly reflected in her work.

Can you tell me a bit about where you're from and how you started as a chef?
My first official line position was at the age of 12/13 on a breakfast line at a local diner where I'm from: Indiana. I was a server, and the cook never prepared the eggs correctly. When I mentioned it, he asked if I'd like to do it, to which I said yes! From then on, I was the egg cook. Underage and illegal, but a badass egg cook nonetheless. This began my ongoing love affair with eggs (basted is my favorite, and rarely does anyone do it right!)…and it hasn't stopped! I started with a passion for food and serving people…the reason I think all chefs should start.
How did the Bewildered Pig concept develop and evolve?
The Bewildered Pig concept is the coalescence of my and my partner's life sensibilities: an intense passion for sustainable food, the "perfect" bite, self responsibility and accountability in a crazy world, the joy of aesthetics, and copious good wine, bourbon, and most of all~sharing it all with people of a similar mindset!
What is your previous experience in the culinary world?
My personal climb to this stage has been a bit unconventional, as I did not attend culinary school or stage my way through Michelin restaurants. (I studied pre-law and business!) Rather, I turned my passion into a fanatic pursuit of endless hours cooking and learning, and endeavored to be the best I can be, with the knowledge and humility of knowing that one is only as good as their team and their intention. I had the pleasure of owning my first restaurant in the late '90's, and then moved to Napa where I worked in Management at The Restaurant at Meadowood, Napa Valley, followed by a 7 year tenure as Executive Chef for my good friend and mentor, Pat Kuleto. I was then graciously offered the Executive Chef position with Peter Michael winery, where I happily created menus for four years to compliment their insanely good wines. Then, The Bewildered Pig became a reality…
Who has been your culinary inspiration?
First and foremost, and in this order: My Busia (My Polish Great Grandmother), and her "Czarnina" (Duck Blood Soup), the best Lemon Meringue Pies in the world, her huge extensive garden, crawdad hunting, and the list goes on… My Mother and her "Pigs in the Blanket" (not the Weiner in a croissant version), the huge garden she kept and from which we ate as kids…We're a very Eastern European Family!
Then, later, I have been inspired by the countries I've visited, the chefs I've met and worked with, including my partner, Daniel Townsend, and Sous Chef Elizabeth Leas, and the extensive cookbook collection I've embarrassingly procured over the years…
From what I can tell you're a master butcher… What is your secret?
Well, how gracious of you! I wouldn't consider myself a "master" anything, but I have butchered my share of animals over the years…With reverence and gratitude, my philosophy is that once you understand anatomy, employ the use of a sharp knife with patience, intent and long smooth strokes, you can relatively easily butcher a (small) animal. Larger ones require much more muscle! We raised sheep, rabbits and chickens for quite a few years, so you get pretty good at it! Either way, using every part is of vital importance~
Do you have a favorite restaurant in the Bay Area?
Besides The Bewildered Pig? Haha…We loved the late Manka's, in Inverness. Not rivaled anywhere, anytime. We miss it!
What do you like to cook at home?
Simple and delicious fare…a simple roasted chicken, fresh salads, anything from the garden etc…
Do you have a favorite food & wine pairing?
Hmmm….I can't resist duck, truffles and Loire Valley Cab Franc…also, Saviennieres with just about anything!
What does the future hold in terms of the restaurant scene in Anderson Valley?
I think the restaurant scene here is on a positive and well warranted path~dedicated people and talented chefs are here, taking the leap into really showcasing the bounty of the Anderson Valley! We think that the Anderson Valley is becoming a huge destination for ecologically conscious "foodies." There are so many people here doing amazing things-growing and foraging food, making world class wine, etc!! We are ready to receive!
What is your personal favorite item (currently) on the menu at the Bewildered Pig?
Either the stinging nettle risotto or the shitake dashi, lion's mane, seaweed hot pot! A bevy of locally sourced, life energy supporting ingredients!
This is a must try for anyone visiting Anderson Valley!  Follow the Bewildered Pig on Facebook here: https://www.facebook.com/The-Bewildered-Pig-108584985919283/?fref=ts
*Photo Credit: Volakis Gallery