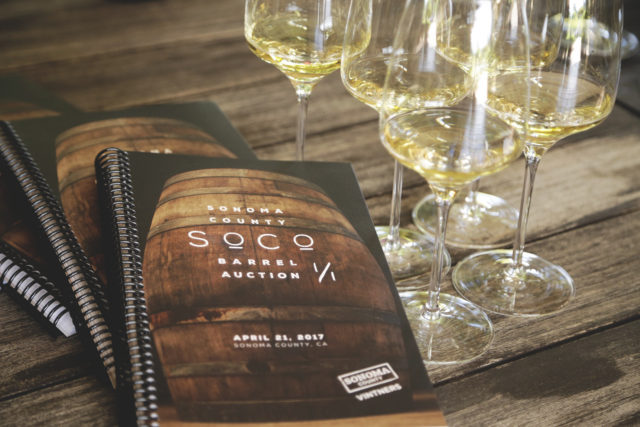 Sonoma County Barrel Auction
The Sonoma County Vintners held their third annual Barrel Auction this April with record setting results, raising over $794,500. That is $100,000 more than the previous auction in 2016. All of money raised supports the marketing initiatives of the Sonoma County Vintners and their AVA partners. This trade-only event, showcases Sonoma's finest one-of-a-kind lots from more than 90 growers and producers. The exclusive, invite-only auction, has become a must-attend event for elite wine industry members, wine buyers and sommeliers from around the world.
The day commenced with the tasting in two ballrooms as well the patio at the Vintners Inn in Santa Rosa, California. Wine buyers eagerly shuffle from one table to the next tasting and analyzing the lots they plan to bid on. The lots were crafted by Sonoma's top Vintners from 17 very distinct AVA's within Sonoma and offered in lot quantities of 5, 10 or 20 cases. These featured wines were crafted strictly for the auction and will be available by resale only for the customers of the winning bidders. The stylistic range of Sonoma County wines is vast yet there is a common thread of seriousness among them all. Sonoma has risen to the same level of prestige among wine professionals around the world as its neighbor to the east, Napa Valley.
A well-timed lunch followed the tasting. Beautifully arranged tables overflowing with champagne, wine and hors d'oeuvres preceeded an exquisite meal. The room was jovial as legendary Sonoma wine growers, producers and retailers came together full circle to enjoy each other's company. The highly anticipated live auction wrapped up the afternoon in a stunning display of energy. This auctioneer is one of the best we've seen, somehow making it through all 90 lots, maintaining enthusiasm until every last drop of wine was sold.
For the second consecutive year, Kosta Browne had the top earning lot with "The Shire of Freestone," a 20 case Sonoma Coast Pinot Noir lot that set a new record at $60,000. The second highest seller was the 20 case Silver Oak Cellars 2015 Alexander Valley lot which closed the auction on a high note at $50,000. Rolling in third was Williams Selyem Winery's 20 case Pinot Noir lot that went for $26,000. Ramey Wine Cellars had the top white wine bid at $12,500 for 10 cases of their "Ramey's Heart of the Russian River Valley" Chardonnay.
The top five lots by case were as follows:
Pride Mountain Vineyards "25th Anniversary Summit Cuvee" – $4000 per case
Kosta Browne "The Shire of Freestone" – $3000 per case
Silver Oak Cellars "Silver Oak 2015 Cabernet Sauvignon"- $2500 per case
Mauritson Family Winery "Sonoma's Own Everest"- $2500 per case
Laurel Glen Vineyard "Randall's Favorite Barrel of 2015" – $2000 per case