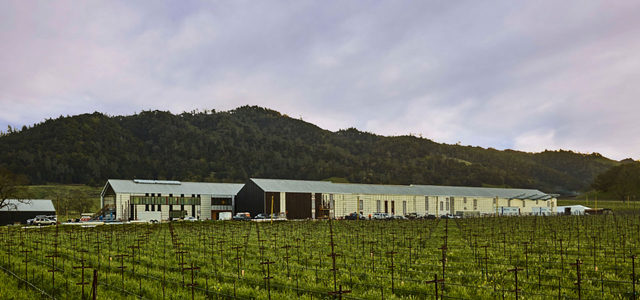 Silver Oak's New Alexander Valley Winery
I recently enjoyed a sneak preview tour of the monumental new Silver Oak Alexander Valley winery, scheduled to open at the end of this year. David Duncan, the genial owner of Silver Oak, was my host and his winemaker, Nate Weis, joined us for the new vineyard portion of our expedition.
The spectacular winery and hospitality center is located on a prominent bluff with a panoramic vista of Alexander Valley (Sonoma County). Next year, Silver Oak's fervent following will savor the opportunity to sample new releases and relax on the terraces overlooking the new vineyards. The modern winery is truly breathtaking, displaying a unique balance of state-of-the-art technology along with sensibilities to history (e.g. century old fermentation tanks re-purposed as striking redwood paneling) and sustainability as they aspire to become just the second "LEED Platinum" certified production winery (the first being the Silver Oak Napa Valley winery). I've toured more than one thousand wineries worldwide and can easily say I've never witnessed such a boundless pursuit of the highest quality Cabernet on such an impressive scale!