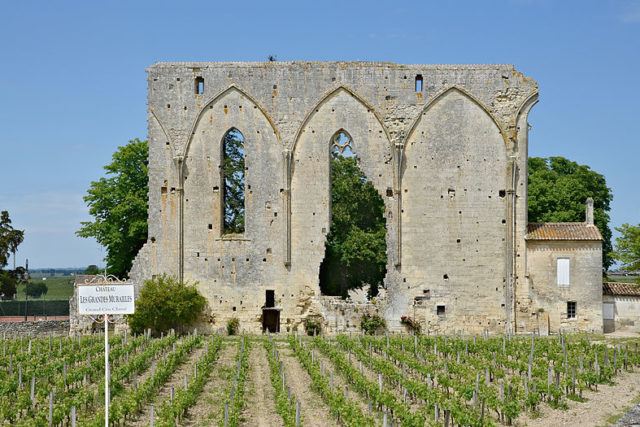 Chateau Les Grandes Murailles
Chateau Les Grandes Murailles is a tiny Bordeaux estate located on the northern edge of the ancient city of St. Emilion. Its modest price has kept it relatively under the radar of many collectors, even though globe-trotting oenologist, Michel Rolland, has been consulting here for years.
The property, a mere 1.46 hectares (about 3.5 acres), takes its name from the single remaining wall (pictured) of a 12th century Dominican monastery. Though the Dominican order demanded poverty of its monks, the sheer majesty and enormity of this wall suggests that the monks of St. Emilion had some flexibility in the grandeur of their architecture.
When Eleanor of Aquitaine married Henry Plantagenet of England (making British royalty the power in the region), she launched a level of tension between the two nations that culminated in a minor conflict called the Hundred Years War (resulting in approximately 3.5 million deaths). Relatively early in the war, the French troops occupied the monastery because it made an location on top of a hill provided an outstanding observation point, as well as an excellent defensive position. The monks — apparently being more lovers than fighters — sought shelter within the walls of the town of St. Emilion, which is about 50 yards away. Eventually the monastery was deliberately destroyed, leaving only the north wall that still stands there today.
The vineyard that is now next to this medieval remnant goes exclusively to Chateau Les Grandes Murailles. Planted entirely to Merlot, the soil is sandy-clay with a subsoil of limestone that has made this terroir famous. It seems that the best Merlot in Bordeaux is planted either on limestone or blue clay, and this special spot has a bit of both — but more on this another time.
The partnership between owner Sophie Fourcade and Michel Rolland has generated consistently outstanding results. It goes without saying that this is a great wine in great vintages, but it is especially worth seeking out in more obscure vintages such as 2001, 2006 and 2012. These are consistently fantastic wines that deserve a place in every serious collector's cellar.