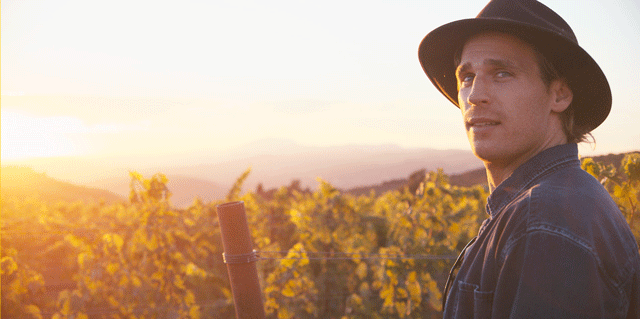 Beyond the Bottle: with Carlo Mondavi
Beyond the Bottle is an engaging way to get to know the people behind the wines we love. We feature vintners that we work closely with and gain insight into who they are outside of the cellar. This week we met with Carlo Mondavi of Continuum Estate and his most recent project, RAEN.
What or who sparked your interest in wine?
Carlo: My grandfather and father. I always looked up to them and always loved being around them at the winery… I must have been 6 or 7 years old when I knew I wanted to make wine and the more I learned the more I knew that was what I wanted to do.
If you weren't a winemaker, what other career could you envision yourself in?
Carlo: I would probably be involved in something working with and preserving nature… I love the ocean and farming and the idea that we can go back to pre-industrial farming practices and be organic and non-gmo in all that we eat and drink. I sum that up as pre-prohibition farming and love that consumers are waking up to this… we are lucky in the wine business that we have the ability to farm beyond organic and anyone who does not embrace that should strive for that. It shows in the nature, the farm, the wild life and ultimately in the wine.
Also… pertaining to the GMO comment and for the record there is not a GMO vine in the world that I know of yet… I hope we keep it that way.
Which wine region do you enjoy visiting/tasting the most?
Carlo: Apart from Napa and Sonoma I love Burgundy but I enjoy wines from all over the world and really enjoy visiting other wine growing regions.
What other winemaker(s) have you influenced you the most and why?
Carlo: My grandfather and father are by far my biggest inspirations and biggest influences in wine. I love what my grandfather stood for in wine and life… to follow your dream even when people don't believe in you and I love what my father stands for today. They have taught me to respect nature through farming in unison with nature rather than against nature. For my father this is a cross between organic, bio-dynamic and a permaculture… bio-diversity is incredibly important to great wine… Almost all of Continuum is pure, untouched nature as are the four vineyards Dante and I farm with RAEN. My father taught me that great wine is all about the site more than anything… They taught us too look at the trees, flowers, plants and soils when looking at a vineyards because they tell us so much about the wine potential. He taught me to clean, clean and then clean again so the cellar and our influence would be minimized on the wine… as a result the site would be the driving force behind what we enjoy in the bottle. The lessons and why they are my greatest influencers goes on and on but these are a few of the reasons. I also have learned from great vintners like Jeremy, Alec and Jacques Seysess of Domaine Dujac, the De Villaines from DRC, Pierro Antinori, Jason Jardin and many of the pioneers of current day fine wines… These vintners continue to influence me with their wines.
What personality trait(s) do you feel most winemakers have in common?
Carlo: The winemakers I spend time with I look at like artists and they all inspire me in one way or another. I think the traits that all winemakers have is a sense of responsibility to nature and a goal to produce a wine that will reflect the site and enhance ones life with a great meal. Most of the winemakers I know are very healthy and tend to eat locally and always grab the organic produce, fruits, meats and cheeses when given the option no mater the cost difference.
What is your favorite beer?
Carlo: I like a fresh, crisp and bright beer… normally leads me towards Pilsner.
What is your go to wine (varietal /region)?
Carlo: I love Pinot Noir from the west Sonoma Coast when picked a bit earlier and I normally prefer the wines with more whole cluster than not… that all depends on the farming, site, clones, and vintage but I feel that whole cluster brightens the fragrance and adds so much body and depth to a wine. I love Napa Valley Cabernet from the mountain vineyards with less new oak. Mountain grown cabernet is simply incredible… For white wines I love rieslings that have been fermented dry and with some age(I don't like residual sugar)… this varietal has been so miss understood and mishandled but when it is good it is in a world of its own. I also love California Chardonnay coming from interesting soils that are picked earlier than the norm, fermented in neutral barrels and allowed to do malolactic fermentation so there is a creamyness to balance the high acid that is not vanilla popcorn from a combination of overripe fruit and new barrels…
What is the most treasured bottle of wine in your cellar?
Carlo: They are the empty ones I drank with my grandfather, family and friends. Those memories hold more value over any full bottle I have.
What advice would you give to an aspiring winemaker?
Carlo: First discover what makes you excited about wine… then once you know what that is dig in deep and don't deviate for scores, the market or anything… If you don't have the education to make it happen find a winery that you like and apply to be an intern. I think there is so much to learn from interning and great mentors… perhaps even more than a Davis degree but if you have both you are going places. Also ask questions and seek advice… In Napa and Sonoma and most of the top wine-growing regions of the world people want great wines made next to them and they will help you if you ask. You will find your niche and in the process have a great time…
What AVA in CA do you feel is underestimated?
Carlo: The AVAs that do not exist yet… Like Occidental or Freestone out on the west Sonoma Coast. Wine has been made there for over a hundred years yet it is still known by most of us as the village and not recognized as an AVA. That is all changing. Fort Ross Seaview is the newest AVA and the wines from there are out of this world and gaining great accolades quickly. I also love The Vacca Range of Napa Valley… Lower vigor, shallow, interesting soils yielding incredible wines with great minerality, tannin, acid, fruit and structure… Pritchard Hill is up there and not technically an AVA but for me it makes some of the best cabernets I have ever had.
What's the last live music show you attended?
Carlo: Butch Walker did a show in New York that was out of control… that guy kills it. Bottle Rock in Napa was awesome as well…
Who is your favorite musician at the moment?
Carlo: Impossible. Too many greats and my radio fluctuates from classical, country, hip hop, old punk rock, rock and roll and back…
What would people be most surprised to learn about you?
Carlo: Ha… well with Instagram and twitter I think most of the exciting things in my life are out there. This last year I was caught in a pretty gnarly avalanche in the Monoshee mountians of BC and walked away. I love to snowboard and surf when things slow down…
What is your favorite food/wine pairing?
Carlo: That's another one that is impossible. These days I am more about the content and quality… Im looking for food and wine that is farmed and made in a pure, respectful and natural way. Wines and food like this seems to go great together… there are the classic pairings I always love and that will never change and I think once you have that down you can get creative with pairings. One thing to watch out for are wines that over power the meal or vice-versa… A great wine should enhance the meal and the meal should do the same for the wine.
Who is the most unconventional / experimental winemaker of our time and why?
Carlo: My grandfather of the yesteryear… He pioneered stainless steel from the milk industry to avoid all the microbial problems the post prohibition tanks had. I was at Chateau Haut Brion with the proprietor and my grandfather back in 2002 and Jean-Paul Delmas pointed at the tanks and said "bob these tanks are here because of you"… That was incredible. I would say my father with our better understanding of microbiology brough back (after many experiments and tests the oak fermenters and concrete tanks. But all of my family's experiments have been to make world class, site driven classic wines. … We are always doing experiments on the side to learn.
There are other people doing crazy experiments in the world of wine with manipulation and all of that but I really don't care about any of that… to me that ruins wine a bit.
If a movie were made about your professional life, what would be the title?
Carlo: I have no idea… something about farming as one with nature, preserving the land and seeking to make world class wine… ask me in 30 years 🙂
http://www.raenwinery.com
http://www.continuumestate.com
AVAILABLE HERE:
RAEN – http://www.porthos.com/s.nl/it.A/id.8820/.f
Continuum – http://www.porthos.com/s.nl/it.A/id.7709/.f