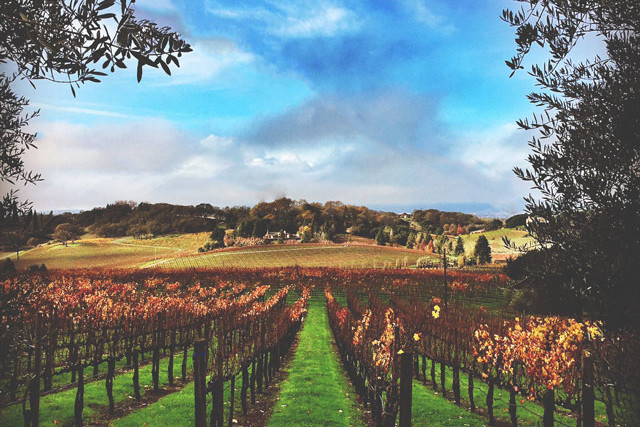 Whether or not you're aware of it, if you've been drinking Napa Cabernet for any period of time, there's a good chance you've been enjoying the fruit produced from Coombsville. This under the radar area of Napa only received it's AVA status in 2011, but it has been the go-to source for vintners from all over the valley for the past 30 years. Such notable wineries as Joseph Phelps and Opus One have been sourcing fruit from here since the mid 80's. They sought the freshness and balance that only this region can deliver. With more and more producers adding the Coombsville name to their releases, now's the time to learn what this region is all about. Here's what you need to know.
The fruit of Coombsville has played an integral role in the great wines of Napa Valley since their inception. Joseph Phelps sourced this fruit for their legendary Insignia releases; and Robert Mondavi and Opus One duked it out for parcels from the Farella vineyard to include in their top cuvées. In fact, some of the oldest Chardonnay in Napa comes from the Haynes vineyard (planted in 1966) and continues to be sourced by such esteemed producers as Failla and Ancien.
Since it only gained its AVA status in 2011, it is easy to overlook the historic importance Coombsville has played in creating the Napa since the early 80's. Just east of the town of Napa, Coombsville takes it's name from one of Napa's founders, Nathan Coombs, who at one time owned 2500 acres east of the Napa river.
While there are a number of factors that make this AVA special, most of it can be boiled down to two features: proximity to the San Pablo Bay and a remarkably uniform soil type. First, San Pablo Bay in effect regulates the climate in Coombsville. The region does not experience the freezes or heat spikes that occasionally plague the rest of the valley. This allows for the longest hang-time of all the AVAs and the fruit can achieve full phenolic ripeness without sacrificing balance. Second, the soil is uniquely consistent. While much of the valley is an amalgam of soils from the Mayacamas to the west and the Vaca mountains to the east, Coombsville is entirely dominated by the volcanic soil of the Vaca range and specifically, nearby Mount George.
When you see the Coombsville name on your wine bottle, know that it represents a history that extends much farther back than 2011. Here are a few of our recent favorites.
Failla Chardonnay Napa Haynes 2012