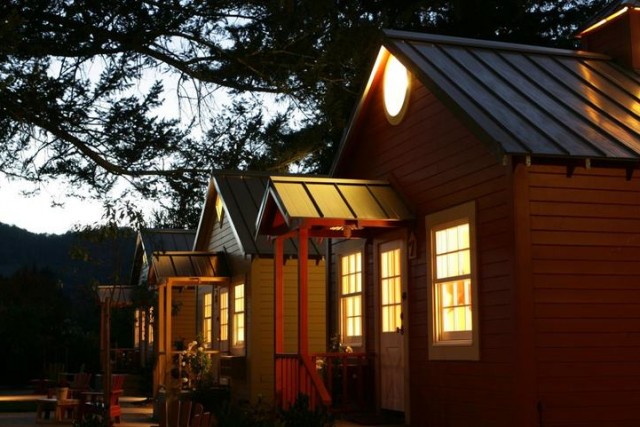 Whether you're heading to Napa Valley for the first time or you're a seasoned wine tourist, we have found the perfect retreat to meet your needs. As a local resident of Napa and a hospitality insider, I have seen most of the accommodations in Napa Valley. I was delighted to recently discover the Cottages of Napa Valley, which have quickly become my top recommendation for anyone visiting the area.
Located just south of the town of Yountville, The Cottages of Napa Valley are nestled on a historic lot right off Darms Lane and are an absolute gem. The charismatic owner of this 2-acre property, Mike, takes great pride in his business and has tastefully renovated the eight historic cottages on site that were originally built in the 1920's for orchard workers. These private cottages are located in a serene garden setting with towering redwoods, an outdoor common area for barbecues and picnicking surrounded by a well manicured landscape. The interior of the cottages have a romantic ambiance with a timeless design, luxurious king-sized beds and gas fireplaces. We felt immediately at home and considered never leaving when we saw the kitchen area supplied a wine and snack stocked refrigerator, french press, small stove and a microwave. The bathrooms in the Romantic King Cottage are beautiful with a two-person jetted air bath and Ultra Bain tub and heated tile floors as well L'Occitane toiletries. While the Cozy King Cottage features a relaxing soaking tub.
The comfort level makes it hard to leave once you're settled, but should you choose to venture outside, the town of Yountville is only a few minutes down the road. The Cottage's concierge services are top of the line and provide the finest hospitality Napa Valley has to offer. Rosemary, a true resource for anyone wanting to know what's hot in Napa, provided us with valuable tips on where to dine without a reservation, new wineries in the area and also provided transportation for us to and from dinner in Yountville.
Each cottage has a private garden with an outdoor wood fireplace where guests can lounge by the fire before retreating inside. It was a delight to wake up to the New York Times newspaper, a basket of pastries, orange juice, fruit and baguettes from Bouchon Bakery that's delivered each morning for breakfast and left on the doorstep. The Cottages also provide in room spa services as well as bicycles and helmets you can borrow to cycle around town in. If you need a larger space there is also a two bedroom house available on the property as well. The Cottages of Napa Valley provide the perfect sanctuary if you're seeking high end comfort, privacy, spectacular hospitality,romance and rejuvenation in the heart of wine country.