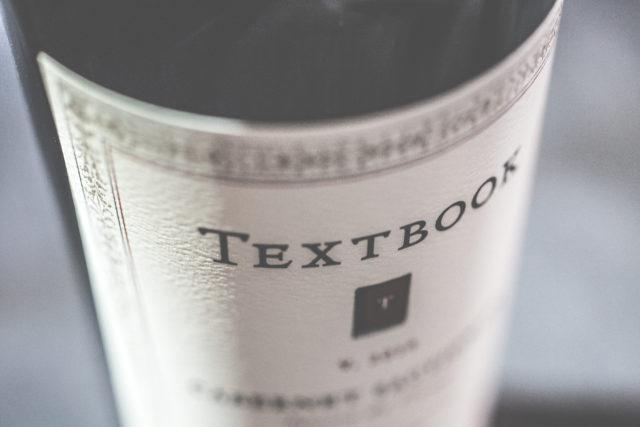 Textbook Cabernet Sauvignon "Mise En Place" 2011
Textbook has emerged as the gold standard for undiscovered boutique Napa Cabernets that taste like $100 but can be secured for far less. This Textbook 2011 is remarkably serious tasting, exceedingly satisfying and a must-have for collectors looking for an undiscovered value. This new release soars from the glass with captivating aromas of potpourri and melted dark chocolate that lead to a weighty, deftly balanced experience featuring layers of black fruit complimented by seamlessly integrated, creamy French oak. Hints of blackberry, baking spices, espresso and semi-sweet Godiva chocolate linger on the prodigious finish. This gem maintains a sense of age-worthy elegance rarely found in pure Cabernets at this price. Enjoy tonight (decant 15 minutes) or anytime over the next 5 – 7 years, peaking 2017 – 2019 depending upon your palate.
The Textbook "Mise en place" Cabernet Sauvignon comes from a very special single
vineyard site located on the extreme eastern side of the Oakville District abutting the Vaca
Mountain Range. This sub-section of the Oakville AVA is renowned for superb, richly textured
Cabernet Sauvignon. Terrain is characterized by steep hills which bask in warm,
sunny afternoons offering an ideal growing environment. The vineyard soil profile is gravelly
alluvium, eroded off the nearby mountains and covered by shallow gravelly loam. It is quite
infertile and very well-drained, unlike the center-most sections of the appellation along Hwy
29. Planted in the early 1980's, clonal material includes 30 year-old heritage clones (likely
from Beaulieu Block) as well as 4 and 337. Gnarled thirty year-old heritage vines and low
yields, combined with 22 months of maturation in new French oak have delivered a
textbook Oakville Cabernet Sauvignon that is sure to make headlines.