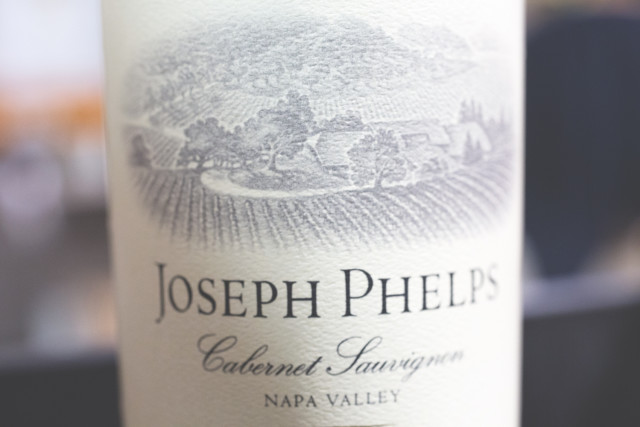 Joseph Phelps Cabernet Sauvignon Napa 2013
The intensely delicious and purely focused Cabernet blend launches forth with prodigious dark fruit, graphite, and seductive hints of dark cocoa on the lengthy finish. Tightly wound now (decanting recommended prior to 2017) with deftly balanced, grainy tannins, this distinguished effort will thrill Napa devotees through 2022.
In the late 1960's, Joseph Phelps was running one of the largest construction companies in the U.S., Hensel Phelps Construction Company, when he won the bid to build Souverain Winery (now Rutherford Hill) located a few miles outside of St. Helena. Enamored with the beautiful Napa Valley and contemplating a career change, in 1973 Joe bought the 600-acre Connolly cattle ranch in Spring Valley, and began planting vineyards and construction of a winery. The first harvest in 1973 yielded Cabernet Sauvignon, Pinot Noir and Johannisburg Riesling bottlings, all custom crushed at nearby wineries. The Joseph Phelps winery was completed in 1974 in time for harvest, crushing grapes for the first Insignia and the first Syrah bottlings. It was a period of unparalleled activity, creativity, ingenuity, entrepreneurship and risk-taking. It put Joe Phelps and his Joseph Phelps Vineyards on the map of top Napa Valley wine producers.
Four decades later, the flagship wine, Insignia, is recognized as one of the world's great wines. Thirty-one of thirty-seven vintages have been rated 90 or more points by various wine publications, including three perfect 100 point scores for the 1991, 1997 and 2002 vintages from Robert Parker's The Wine Advocate in Mr. Parker's Historical Tasting of Insignia report, published in November 2013. The 2002 vintage of Insignia was also awarded "Wine of the Year" by Wine Spectator magazine in 2005. - Joseph Phelps