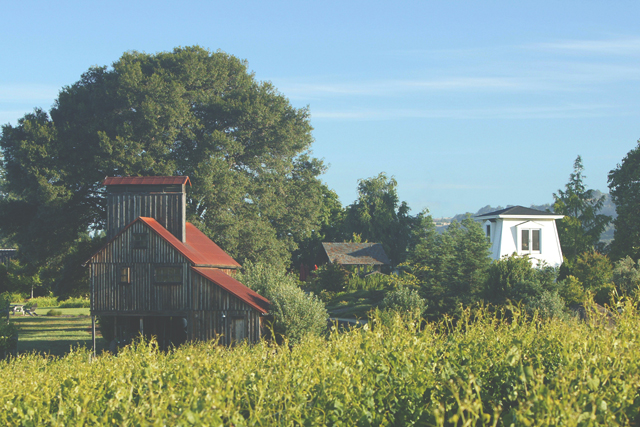 AVA Focus: Anderson Valley.
An official California AVA since 1983, Anderson Valley is one of the lesser-known gems of California wine growing.  This might be partly because it's so difficult to get to.  While it's only 100 miles outside of San Francisco, the gorgeous and verdant road into town is hilly, long, and incredibly circuitous.  So far off the beaten-path is this picturesque rural community that, until the 70's, they literally had their own language, Boontling.  All this means you can still find some amazing values and experience the thrill of discovering new wineries before anyone else knows about them.
The valley, which includes the towns Philo, Boonville, Navarro, and Yorkville, is surrounded by rolling hills and steep mountains, a funnel for the moist and foggy coastal air, which keeps things cool at night, even when the summertime inland highs might top 100F.   This, and the area's rocky "alluvial terraces" make it the perfect location to grow (you guessed it) Pinot Noir, Chardonnay, and the Alsatian Varietals (Reisling, Gewurztraminer, Pinot Gris), which are a unique focus of the region. Several wineries in the valley also produce sparkling wine from their Pinot and Chardonnay grapes.
Duckhorn's well-regarded Goldeneye property has long been the featured attraction for visitors looking for a Napa or Sonoma style tasting experience. Goldeneye's tasting offers newcomers a great introduction to the riches to be found in the valley and their hospitality makes it a required stop. Newcomers Knez have recently opened a tasting room where they pour wines from their Cerise and Demuth vineyards.
We encourage you to visit this magical California wine region and have included a brief list of a few of our favorite recent Anderson Valley bottlings below:
Maggy Hawk Pinot Noir Jolie 2010 (approx $65/btl) – 96 points
Knez Chardonnay Cerise Vineyard 2010 (approx $36/btl) – 94 points
Donum Estate Pinot Noir Anderson Valley 2011 (approx $75/btl) – 97 points
Goldeneye Pinot Noir Gowan Creek 2011 (approx $85/btl) – 96 points